Mixed-sex Civil Partnerships to be available in England and Wales from end of 2019
On 15th March 2019 the Civil Partnerships, Marriages and Deaths (Registration etc) Bill completed its passage through the Houses of Parliament. It contains four provisions, one of which will allow the Secretary of State for Women and Equalities to consult on and create all legislation necessary to permit mixed-sex civil partnerships in England and Wales. The Bill received Royal Assent on 26th March 2019 and will come into force on 26th May 2019. However, the provisions of the Bill allow for further consultation and legislation ensuring that mixed-sex civil partnerships can be entered into by the end of the year.
Sign up for our mailing list to be kept up-to-date with progress Click here
So what does this mean and when can you have one?
The differing dates and provisions of the Bill are undoubtedly confusing so here in one place are the key questions being asked of the campaign.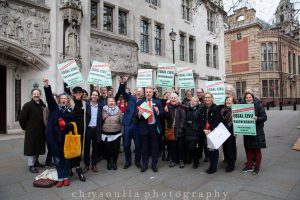 From what date can mixed-sex civil partnerships be entered into?
Enshrined in the Bill is the 31st December 2019. This means that all secondary legislation must be completed for the eligibility requirements for a civil partnership to be changed by that date. However, if all secondary legislation is completed before then, mixed-sex civil partnerships may begin to take place sooner.
The Bill has been passed. Why do we need to wait longer?
In October 2018, Prime Minister Theresa May announced that her Government would allow mixed-sex civil partnerships to take place. The Private Members' Bill brought by Tim Loughton MP was the simplest and fastest opportunity to ensure the legislation needed was completed in this parliament. However, it meant that the necessary consultation would need to take place after the Bill was passed and then a statutory instrument created to amend the existing civil partnership act. The central tenets of the Bill with regard to mixed-sex civil partnerships – that they are to be recognised and that they must be introduced by 31st December 2019 at the latest – can not be altered during this secondary legislation.
What areas will the consultation cover?
The consultation will include discussion and decisions on areas such as parental rights, gender recognition, financial consequences, the treatment of relationships entered into outside the UK and the conversion from marriage to civil partnerships and vice versa.
How to apply for a civil partnership?
Couples wishing to enter into a civil partnership need to contact their local registry office to discuss the process.
Are registry offices taking bookings now?
Some are but not all of them. Some are operating waiting lists to contact prospective civil partners as soon as the legislation has been completed whilst others are happy to take bookings now for 31st December 2019 and beyond.
Might mixed-sex civil partnerships be able to take place sooner than 31st December 2019?
The date of 31st December 2019 is an end-date not a target. If the consultation and secondary legislation can be completed by then, mixed-sex civil partnerships can begin to take place from an earlier date.
Will my overseas civil partnership be recognised in the UK?
That is one of the key areas to be considered in the consultation. Until the date on which couples can enter into a mixed-sex civil partnership in England and Wales, overseas civil partnerships will remain as having no legal recognition in the UK. We will share the conclusions of the consultation with regard to overseas civil partnerships as soon as we have definitive answers.
Can we enter into a mixed-sex civil partnership in Scotland or Northern Ireland?
This is a devolved matter so the Bill and subsequent legislation will only apply to England and Wales. Scotland have carried out a consultation with the stated aim of either allowing all civil partnerships or abolishing same-sex civil partnerships. No further information from the Government has to date been forthcoming. Without mixed-sex civil partnerships being permitted in either Scotland or Northern Ireland, those entered into in England and Wales will not be recognised in the former countries.
How to stay up-to-date with latest information on the consultation
Sign up to the mailing list to be kept informed
Follow Equal Civil Partnerships on Facebookor twitter
Keep checking back in to the website – we'll add more information when we have it.