Mixed-sex Civil Partnerships to be available in England and Wales from end of 2019
On March 15th 2019 the Civil Partnerships, Marriages and Deaths (Registration etc) Bill completed its passage through the Houses of Parliament. It contains four provision, one of which will allow the Secretary of State for Women and Equalities to consult and create all legislation necessary to permit mixed-sex civil partnerships in England and Wales. The Bill provides that the legislation must be completed in time for the first mixed-sex civil partnerships to take place by the end of 2019 at the latest.
Message from ECP Chair, Martin Loat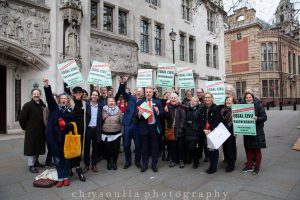 What a momentous success this has been for our campaign.
We have battled long and hard to achieve this victory. I thank and congratulate Tim Loughton MP for his determined and skilled steering of this Private Members Bill through Parliament. We got there in the end.
And I want to thank our thousands of active supporters, our brilliant ECP campaign team, my fellow ECP board members and our other advisors – people such as Fiona Millar, Peter Tatchell and Prof Rob Wintemute for their advice and encouragement. Of course, we also owe huge respect and admiration to Rebecca Steinfeld and Charles Keidan for their bravery in starting this journey with their principled legal campaign. It's been an honour working with them all.
I want to thank my own civil Partner Claire for putting up with me – and I can say civil partner because Claire and I are in a legal cp albeit only in Isle of Man. However, we know that pretty soon that legal bond between us will be recognised where we actually live in England before the year is out.
The Government now plans a consultation to assess just how equal civil partnerships for all are going to work before they start to happen by 31 Dec. So there is still work to do. The Equal Civil Partnership campaign will play a full part in this and will continue to speak up for our supporters.
But now we can celebrate an amazing day for fairness, equality and family security
We can now tell the millions of cohabiting couples in England and Wales that by the end of the year
You will be able to get legal recognition for your relationship without the need for marriage if that's not for you
We have achieved equality for all couples in relationships
You will be able to have your civil Partnership
and you can now, at last, #SetADateToCelebrate!