October 16, 2016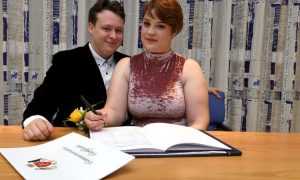 Adeline Cosson, 24, and Kieran Hodgson, 22, have become the first ever different-sex couple in the British Isles to enter into a civil partnership.
The couple, who live on the Isle of Man, had a ceremony in Douglas in the morning of Friday 14th. Although civil partnerships are not currently available for different-sex couples living in the United Kingdom, they are available in the Isle of Man which is separate from the UK. They were introduced on the Isle this summer.
Cosson and Hodgson said they wanted to "keep it simple".
Cosson said "We didn't want to call it a marriage, we wanted to call it a civil partnership…We were told we were the first ever. We are very proud to do it.
"The main thing was that we wanted to keep it simple. We are a young couple. We do want to get married one day but not now; at a later date. This gives us rights under the law.
"It helps couples move forward without having to get married right now. To create full equality on the Isle of Man, they have allowed gay couples to get married but also to start civil partnerships."
Commenting on Cosson and Hodgson's union, Matt Hawkins, of the Equal Civil Partnerships Campaign, said: "I'm delighted to send congratulations to Adeline and Kieran. I hope that the joy they share in their civil partnership is one that many different-sex couples across the British Isles will soon be able to experience.
"It seems remarkable that different-sex couples in Britain are now just a stone's throw away from getting a civil partnership. Extending civil partnerships extends choice and gives couples who do not feel a marriage is right for them the chance to gain legal and financial protection for their relationship and, if they have any, their children.
"With our 70,000 supporters, politicians backing us from every party, and endorsements from fantastic organisations, we are confident that that choice and opportunity will soon be extended and Adeline and Kieran's example followed by couples across Britain."
---
Note:
Since Cosson and Hodgson's union was announced the Equal Civil Partnerships Campaign has received a number of inquiries from people asking if they could go to the Isle of Man from the UK, get a civil partnerships and then have it recognised back in Britain. At present it is unclear since this has never been tested in law before. The French equivalent of a civil partnership – pacs – has been recognised but we expect that is because the legal rights gained by couples who enter into them are less than those of a marriage. It will require a "test case" to be undertaken whereby a couple tries to have the rights gained from a civil partnership entered into on the Isle of Man recognised in the UK.