September 26, 2017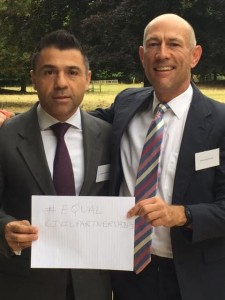 Campaign Manager Clare Lorraine Phipps said:"This news does not come as a surprise to those who have been campaigning for the extension of Civil Partnerships to mixed sex couples. Nearly 80,000 people have signed our petition, and we have continued to see a persistent number of same sex couples who have still opted for Civil Partnerships over marriage, even since the welcome introduction of marriage equality in 2014.
"The Government doesn't need to "wait and see" if there is sufficient demand to maintain Civil Partnerships as an institution – these figures speak for themselves. We are calling on Justine Greening and the Government to demonstrate their continued support for Civil Partnerships by extending them to all couples, regardless of their sexuality. Civil Partnerships offer a legally binding arrangement that is fair, popular and good for families and children."
Image: Professor Robert Wintemute, Equal Civil Parternships supporter, with his partner
September 7, 2017
Members of the Equal Civil Partnerships Campaign team have met with Tim Loughton, MP to discuss plans ahead of the Second Reading of his "Equal Civil Partnerships" Bill.
In July, the MP for East Worthing and Shoreton was selected as the 5th person to have a Private Members Bill heard – and he chose equalising civil partnership inequality as his Bill's topic. The Bill has now been presented to Parliament in its "First Reading" as the "Civil Partnerships, Marriages and Deaths (Registration Etc.) Bill 2017-19". Its "second reading" has been scheduled for February 2nd.
Private Members Bills are one of the ways MPs can introduce laws. They are heard in order one after the other throughout the course of the Parliamentary Year. Many do not get to be heard for their crucial second reading, where other MPs have a chance to vote as to whether the Bill should progress onto the next stage, before the Parliamentary year ends, and the process starts again. Most Bills that have successfully been passed into law have been on of the first 20 selected.
With a Bill so high in the prioritisation ballot, we have a really great chance for Equal Civil Partnerships to become a reality – so we naturally were keen to meet with Tim to discuss ahead of February's vote.
Tim said: "We need to correct the current inequality within the law that prevents heterosexual couples from entering into civil partnerships. It is a very simple Bill that alters one word in the law but it will make a big difference to many people's lives."
One of the main tasks for his team in the coming months will be finalising the wording of the Bill so that it is in the best possible shape when it comes to February's vote, allowing MPs to feel comfortable voting for it to proceed.
Many thanks to our supporters who are patiently waiting for developments – we will be in touch soon to let you know how you can give the Bill the best chance of success in passing to the next stage in becoming law. Make sure you receive our updates and also show your support by signing the petition here .