December 9, 2019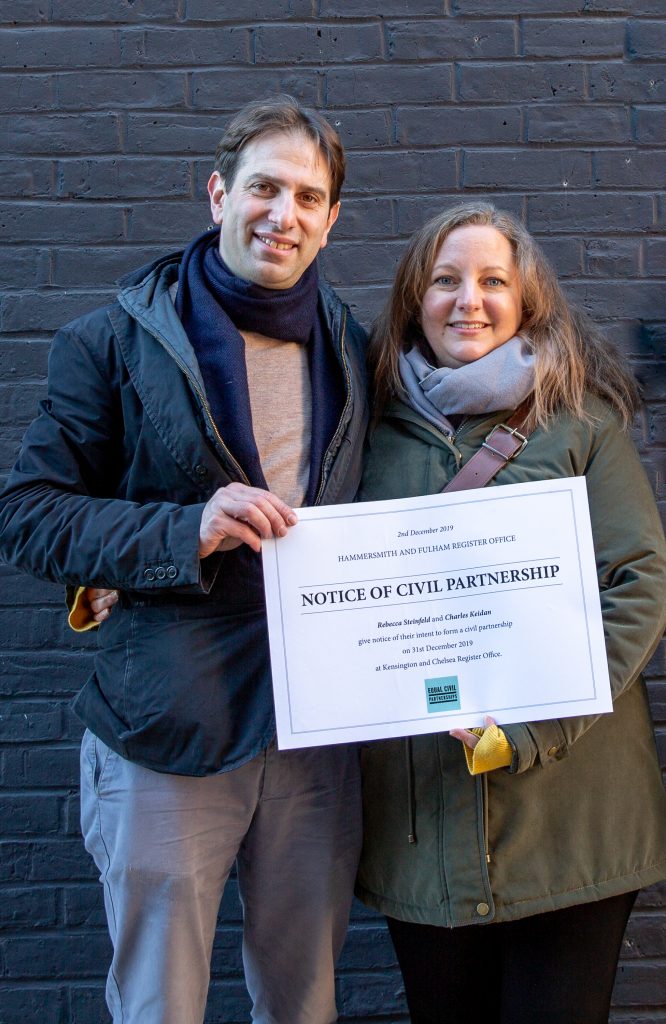 After giving notice at Hammersmith and Fulham Register Office Charles Keidan and Rebecca Steinfeld gave statements.
Charles said,
It's five years to the day since Becca and I launched our legal effort to
become civil partners.
A civil partnership is the perfect expression of our values and relationship –
of love for one another and an aspiration to be a partnership of equals. Of
course, we don't always live up to that aspiration but it sets a tone for our
relationship and our responsibility as parents.
For us, a civil partnership is a blank slate upon which we can inscribe our
own hopes and dreams. There is no social script, no fixed expectations
imposed by others, no huge expense and minimal fanfare.
I'm also happy to be avoiding demands and expectations from others – be
they family, friends and society – about wearing certain clothes, exchanging
vows and rings, throwing an expensive party or signing a certificate or
being part of an institution which still excludes mother's names.
Now that we've successfully given notice of our own civil partnership here
in Hammersmith and Fulham Register Office, we'll be having a simple
registration 29 days later in the company of our children and two close
friends who will act as witnesses. We will be going back to Chelsea Register
Office on new years eve, the place where it all began when we tried to form
a civil partnership all those years ago. It has been a long – and at times
arduous – journey but now the law has changed. We will enter the new
decade as civil partners.
I'm really happy and proud to have played a role in giving birth to a new
type of legal relationship and social structure – one which I hope will
increase people's happiness, well-being, choice and security.
Rebecca added
I'm so happy and relieved that we've finally been able to give
notice of our intention to form a civil partnership. Five years
ago, when we tried at Chelsea Register Office, we were
turned away because of the ban on mixed-sex civil
partnerships. Since then, we've won our legal challenge
against that ban in the Supreme Court, and, together with
the Campaign for Equal Civil Partnerships, changed the law so
that now all couples can form civil partnerships. Our positive
experience here at Hammersmith and Fulham Register Office
today marks the beginning of the end of that long journey.
Now, I'm looking forward to finally becoming civil partners in
law, as well as in life, with my partner Charlie Keidan.
Descriptors are hugely important. It matters that same-sex
couples can marry – something we campaigned for within
our community. But it also matters that feminists like me, in
mixed-sex relationships, can, through civil partnerships,
formalise a relationship of equals, and avoid labels like
"wife," together with all the gendered expectations that
come with them. Being civil partners reminds us of the need
for mutual respect. And it gives me, especially, leverage
whenever there's a creeping inequality in our division of
household labour and childcare responsibilities.
So my message to those, like me, who want legal status and
financial protections for their relationship, but within a
modern social institution without the patriarchal baggage of
marriage is: Get hitched like a feminist – form a civil partnership.
December 9, 2019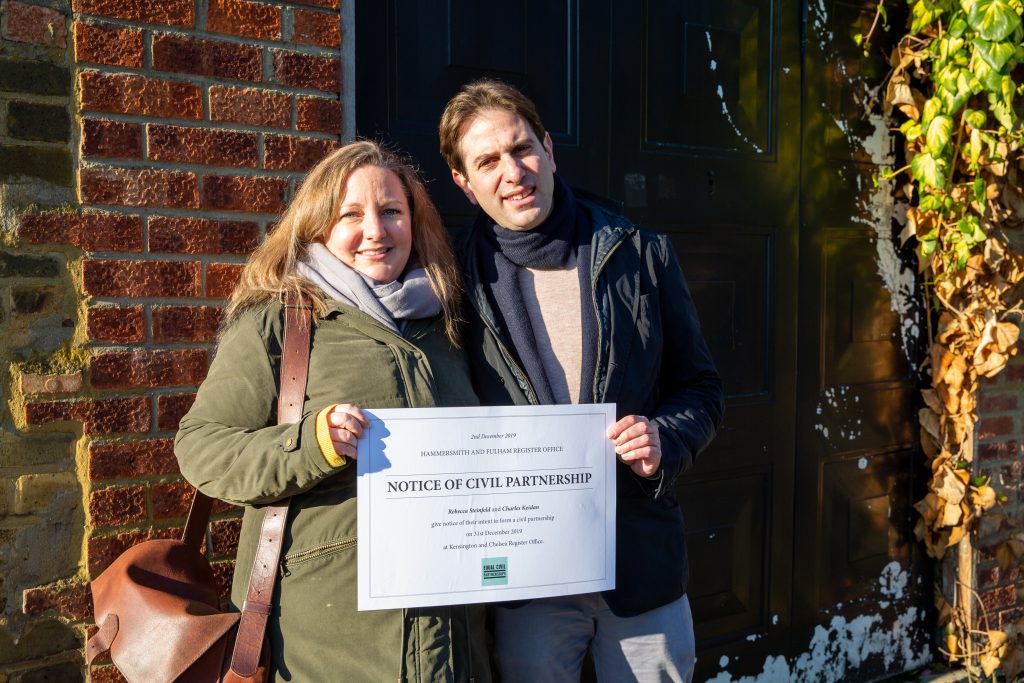 At just after midnight on Monday 2nd December, a new form of legal relationship came into being in England and Wales. For the first time, mixed-sex couples can choose to register their relationship as a civil partnership as an alternative to marriage, an option that was previously only open to same-sex couples.
The first civil partnership registrations can take place from 31st December 2019 and register offices throughout the country have been kept busy as couples rushed to give notice. One of the couples doing so was Rebecca Steinfeld and Charles Keidan whose fight for the right to have a civil partnership, a fight supported throughout by the Equal Civil Partnerships campaign, led them to a win at the Supreme Court. They were joined by hundreds of couples today during the rest of the week, keen to give notice and be among the first to register their partnership.
After giving notice at Hammersmith and Fulham Register Office at 10.30 am on Monday 2nd December, Rebecca Steinfeld said, "I'm so happy and relieved that we've finally been able to give notice of our intention to form a civil partnership. It matters that feminists like me, in mixed-sex relationships, can through civil partnerships, formalise a relationship of equals."
Charles Keidan added, "I'm really happy and proud to have played a role in giving birth to a new type of legal relationship and social structure – one which I hope will increase people's happiness, well-being, choice and security. A civil partnership is the perfect expression of our values and relationship."
Many other couples will have gone to bed on Sunday 1st December cohabiting and woken up to find themselves civil partners. Civil partnership equivalents entered into outside the United Kingdom automatically became a legal relationship at 00.01am on Monday 2nd December. Martin Loat, chair of the Equal Civil Partnerships campaign, who is, in fact in this position having registered his partnership with Claire Beale in the Isle of Man three years ago, said, "This is a truly momentous day. We are the very beginning of a totally new social institute and it's exciting to be one of the first to enjoy this. We know from our supporters that this is a day that has been longed for and we look forward to seeing what will happen from now on with it."