November 6, 2019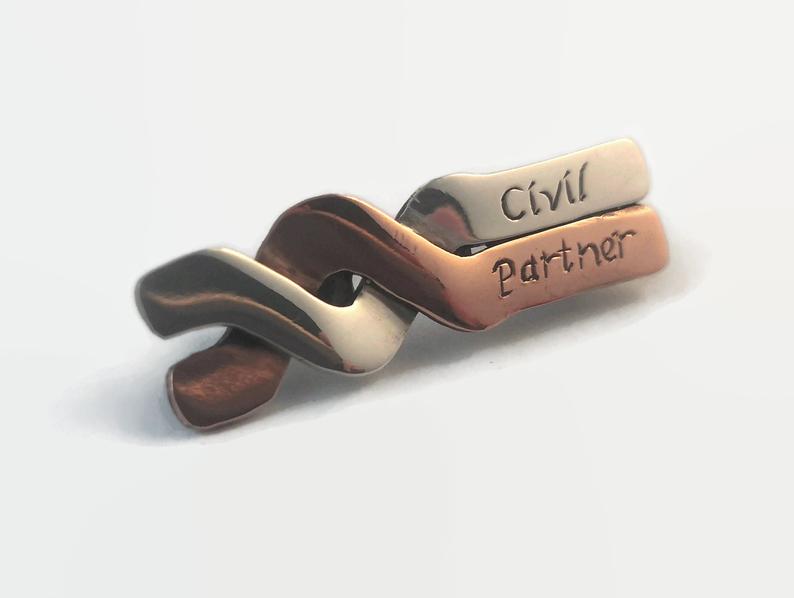 If you are looking for something special to commemorate a civil partnership, these specially designed bar brooches, endorsed by the Equal Civil Partnerships campaign, might be the perfect item. The high quality hand-crafted brooches in sterling silver and copper can be bought from Dunn Jewellery via Etsy at https://www.etsy.com/uk/listing/736008340/equal-civil-partnerships-campaign-bar
The ECP campaign has worked with custom jeweller, Paul Dunn of Dunn Jewellery, to create a simple design specific to civil partnerships which we hope people will enjoy. The brooches are a perfect additional touch for the registration itself but can equally be worn every-day. Although designed to be engraved Civil Partner – working for both mixed and same-sex partnerships and gender neutral, the engraving can be personalised or left off.
To see and purchase the design go to https://www.etsy.com/uk/listing/736008340/equal-civil-partnerships-campaign-bar
ECP campaign's role has been purely advisory and the campaign has no financial affiliation with Dunn Jewellery nor does it receive any benefit or profit from the sale of the brooches. The campaign is also currently working with an enamel badge maker to provide an additional or alternative low-cost commemorative symbol.
November 6, 2019
Mixed-sex couples will finally be able to register civil partnerships in England and Wales starting from New Year's Eve 2019 after secondary legislation was read and approved in the House of Lords on 5th November 2019. Couples will be able to give notice from 2nd December 2019 and the first civil partnerships can be registered on 31st December after the usual 28 days notice.
During the debate, Baroness Susan Williams explained that the bill was being passed without inclusion of conversion to/from marriage as that was a longer task following the consultation and there was a priority to ensure mixed-sex civil partnerships could happen by the end of 2019. She reassured the house that it was a priority for 2020.
Baroness Williams further confirmed that a bill to create opposite-sex civil partnerships was currently passing through the Scottish parliament. Until this bill has passed, civil partnerships formed in England and Wales will be treated as marriages in Scotland for legal and financial purposes. Afterwards, they will be recognised as civil partnerships.
In good news for Northern Ireland, Baroness Williams confirmed that both opposite-sex and same-sex civil partnerships will be able to be formed from 13 January 2020.
Martin Loat, Chair of the campaign, commented, "It has been a long journey through both the courts and parliament to get to this point. I'd like to pay tribute to everyone who has been involved in the campaign – especially Rebecca Steinfeld and Charles Keidan whose eventual win at the Supreme Court led us to this place, Tim Loughton MP who tenaciously took this on as a Private Members Bill, Baroness Fiona Hodgson who led the Bill through the Lords and of course all the supporters whose own testimonies have played a real role in the campaign. We are all delighted and relieved that the start date of 31st December can be adhered to."
ECP campaign was very grateful for the kind and generous words spoken by members of the House during the debate.
In the words of Lord Cashman
"Let us get this through and allow those who may wish to take this wonderful opportunity—perhaps on 31 December or even 1 January—the luxury to say that in a country where we are equal, they celebrate the person they love regardless of the gender of that person."
The full debate can be read here https://hansard.parliament.uk/lords/2019-11-05/debates/3184F27B-407A-47E3-A4B8-F865CE5FF82A/CivilPartnership(Opposite-SexCouples)Regulations2019