October 21, 2016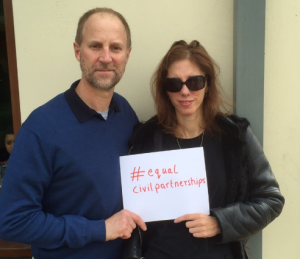 Martin and Claire
A woman and man from London will today become the first UK-based heterosexual couple to enter into a civil partnership in the British Isles. The couple have to travel to the Isle of Man for the ceremony as different-sex civil partnerships are currently not available to couples living in the UK.
Claire Beale and Martin Loat, who reside in Ealing in west London with their two children aged 14 and 10, have lived together since 1992. They have said that they want a formal recognition of the relationship but they have never wanted to get married.
But, despite being legal for same-sex couples since 2004, civil partnerships are not permitted for different-sex couples in the UK. The Isle of Man, which is a Crown Dependency but not part of the UK, introduced different-sex civil partnership in July this year.

Ms Beale and Mr Loat have decided to form their civil partnership in the Isle of Man so they can achieve the legal recognition for their relationship that they have always wanted in the only form that is available to them today. They hope that that either the UK government will have to follow the Isle of Man's lead and end discrimination against heterosexuals seeking civil partnerships, or that pressure will build until such a civil partnership formed in the Isle of Man will be deemed as valid in the UK.

"We respect that other people in committed, lasting relationships might want to opt for marriage, but it's not right for us," they said. "We regard ourselves as one of the millions of 'happily unmarried' couples in the UK.  We want a less encumbered, light-touch civil union that recognises our relationship on our terms, free from the trappings and social pre-conditions of marriage, while protecting our family financially and in law."

Last week Adeline Cosson and Kieran Hodgson became the first ever different-sex couple in the British Isles to get a civil partnership. As residents of the Isle of the Man their union will be recognised by their home government unlike Ms Beale and Mr Loat, who must hope for a change in UK law.

The Isle of Man ceremonies come less than two weeks before the Appeal court in London is due to hear the case of another London couple – Rebecca Steinfeld and Charles Keidan – who have brought a legal case against HM Government on the grounds that the ban on different-sex civil partnerships goes against the Human Right Act. The couple lost the first ruling on their case in January this year.

They decided to appeal following a wave of public support which has seen 70,000 people sign an online petition in support of civil partnerships being open to all, regardless of sexual orientation

Both the London couples are part of the campaign for Equal Civil Partnerships.

Mr Loat added: "We now have 0.1% of British Isles sewn up, only another 99.1% to go!"
October 16, 2016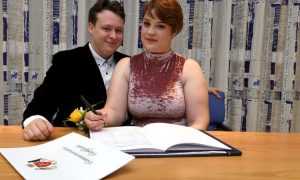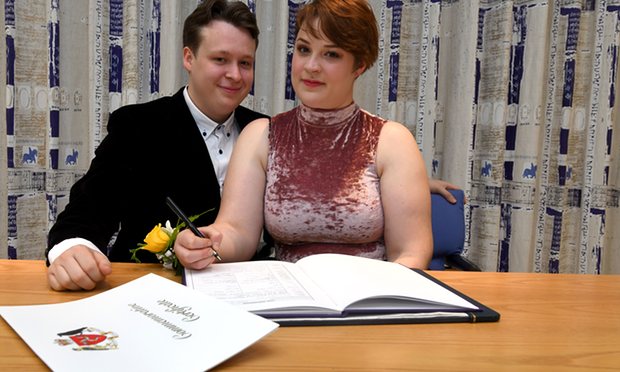 Adeline Cosson, 24, and Kieran Hodgson, 22, have become the first ever different-sex couple in the British Isles to enter into a civil partnership.
The couple, who live on the Isle of Man, had a ceremony in Douglas in the morning of Friday 14th. Although civil partnerships are not currently available for different-sex couples living in the United Kingdom, they are available in the Isle of Man which is separate from the UK. They were introduced on the Isle this summer.
Cosson and Hodgson said they wanted to "keep it simple".
Cosson said "We didn't want to call it a marriage, we wanted to call it a civil partnership…We were told we were the first ever. We are very proud to do it.
"The main thing was that we wanted to keep it simple. We are a young couple. We do want to get married one day but not now; at a later date. This gives us rights under the law.
"It helps couples move forward without having to get married right now. To create full equality on the Isle of Man, they have allowed gay couples to get married but also to start civil partnerships."
Commenting on Cosson and Hodgson's union, Matt Hawkins, of the Equal Civil Partnerships Campaign, said: "I'm delighted to send congratulations to Adeline and Kieran. I hope that the joy they share in their civil partnership is one that many different-sex couples across the British Isles will soon be able to experience.
"It seems remarkable that different-sex couples in Britain are now just a stone's throw away from getting a civil partnership. Extending civil partnerships extends choice and gives couples who do not feel a marriage is right for them the chance to gain legal and financial protection for their relationship and, if they have any, their children.
"With our 70,000 supporters, politicians backing us from every party, and endorsements from fantastic organisations, we are confident that that choice and opportunity will soon be extended and Adeline and Kieran's example followed by couples across Britain."
---
Note:
Since Cosson and Hodgson's union was announced the Equal Civil Partnerships Campaign has received a number of inquiries from people asking if they could go to the Isle of Man from the UK, get a civil partnerships and then have it recognised back in Britain. At present it is unclear since this has never been tested in law before. The French equivalent of a civil partnership – pacs – has been recognised but we expect that is because the legal rights gained by couples who enter into them are less than those of a marriage. It will require a "test case" to be undertaken whereby a couple tries to have the rights gained from a civil partnership entered into on the Isle of Man recognised in the UK.
October 7, 2016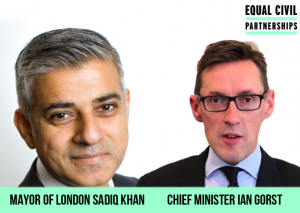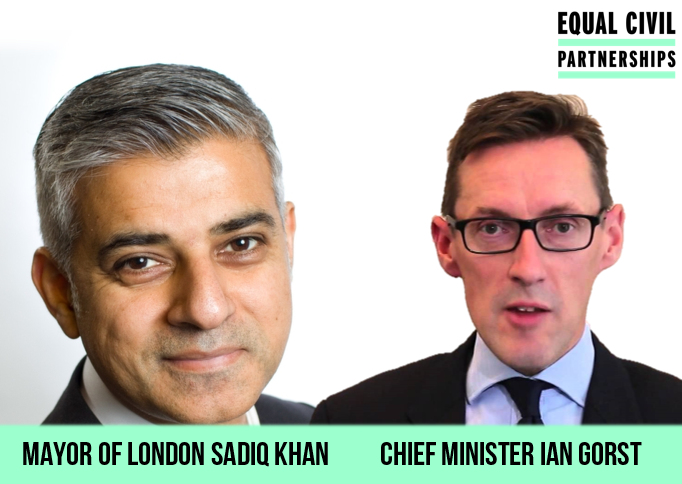 The Equal Civil Partnerships this week wrote to the Mayor of London Sadiq Khan and the Chief Minister of Jersey Ian Gorst asking for their support.
We have good reason to believe that in these bids we will be successful.
Our campaign now has the backing of London Assembly Members from the Conservatives, Labour, and the Liberal Democrats. In 2000 City Hall in London did something brave and bold: it introduced the first ever registration scheme for same-sex couples, the first step along the way to civil partnerships and ultimately equal marriage. We want the Mayor to follow that legacy and the lead of his Assembly Members and use his position to promote and push for the extension of civil partnerships. We've requested a meeting with Sadiq so watch this space!
We also wrote to the Chief Minister in Jersey. Jersey is in the process of introducing same-sex marriage and in our letter we urged the States (as they are known) to do what the British government should have done in 2013: extend civil partnerships. With the precedent now set by the Isle of Man for this cause, we have great hope that Chief Minister Gorst will be open to the idea.
The letters went in the post yesterday so we will keep you updated once we have news!