October 21, 2016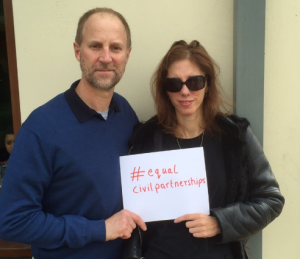 Martin and Claire
A woman and man from London will today become the first UK-based heterosexual couple to enter into a civil partnership in the British Isles. The couple have to travel to the Isle of Man for the ceremony as different-sex civil partnerships are currently not available to couples living in the UK.
Claire Beale and Martin Loat, who reside in Ealing in west London with their two children aged 14 and 10, have lived together since 1992. They have said that they want a formal recognition of the relationship but they have never wanted to get married.
But, despite being legal for same-sex couples since 2004, civil partnerships are not permitted for different-sex couples in the UK. The Isle of Man, which is a Crown Dependency but not part of the UK, introduced different-sex civil partnership in July this year.

Ms Beale and Mr Loat have decided to form their civil partnership in the Isle of Man so they can achieve the legal recognition for their relationship that they have always wanted in the only form that is available to them today. They hope that that either the UK government will have to follow the Isle of Man's lead and end discrimination against heterosexuals seeking civil partnerships, or that pressure will build until such a civil partnership formed in the Isle of Man will be deemed as valid in the UK.

"We respect that other people in committed, lasting relationships might want to opt for marriage, but it's not right for us," they said. "We regard ourselves as one of the millions of 'happily unmarried' couples in the UK.  We want a less encumbered, light-touch civil union that recognises our relationship on our terms, free from the trappings and social pre-conditions of marriage, while protecting our family financially and in law."

Last week Adeline Cosson and Kieran Hodgson became the first ever different-sex couple in the British Isles to get a civil partnership. As residents of the Isle of the Man their union will be recognised by their home government unlike Ms Beale and Mr Loat, who must hope for a change in UK law.

The Isle of Man ceremonies come less than two weeks before the Appeal court in London is due to hear the case of another London couple – Rebecca Steinfeld and Charles Keidan – who have brought a legal case against HM Government on the grounds that the ban on different-sex civil partnerships goes against the Human Right Act. The couple lost the first ruling on their case in January this year.

They decided to appeal following a wave of public support which has seen 70,000 people sign an online petition in support of civil partnerships being open to all, regardless of sexual orientation

Both the London couples are part of the campaign for Equal Civil Partnerships.

Mr Loat added: "We now have 0.1% of British Isles sewn up, only another 99.1% to go!"