November 6, 2019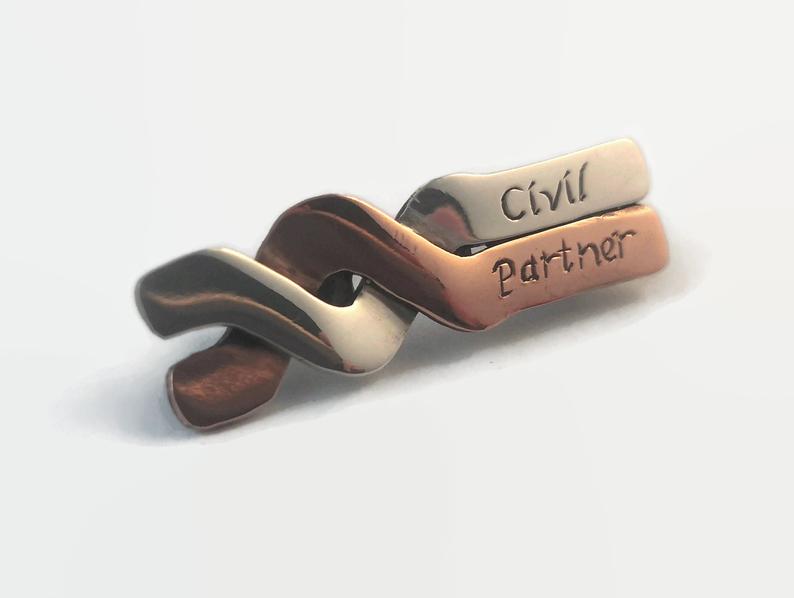 If you are looking for something special to commemorate a civil partnership, these specially designed bar brooches, endorsed by the Equal Civil Partnerships campaign, might be the perfect item. The high quality hand-crafted brooches in sterling silver and copper can be bought from Dunn Jewellery via Etsy at https://www.etsy.com/uk/listing/736008340/equal-civil-partnerships-campaign-bar
The ECP campaign has worked with custom jeweller, Paul Dunn of Dunn Jewellery, to create a simple design specific to civil partnerships which we hope people will enjoy. The brooches are a perfect additional touch for the registration itself but can equally be worn every-day. Although designed to be engraved Civil Partner – working for both mixed and same-sex partnerships and gender neutral, the engraving can be personalised or left off.
To see and purchase the design go to https://www.etsy.com/uk/listing/736008340/equal-civil-partnerships-campaign-bar
ECP campaign's role has been purely advisory and the campaign has no financial affiliation with Dunn Jewellery nor does it receive any benefit or profit from the sale of the brooches. The campaign is also currently working with an enamel badge maker to provide an additional or alternative low-cost commemorative symbol.